Let me start with..HAPPY THANKSGIVING!
I hope everyone had a safe, healthy and enjoyable Thanksgiving. :)
This year (as with every other), I am incredibly thankful for the amazing family and friends I am blessed to have in my life. I am grateful for everyone (the good and the bad) that have touched me and helped to make me who I am. I am also very appreciative of the love and support I've been given by my on-line friends since my dad has been sick. I can't thank you all enough.
I hope you're all smart and fit enough not to get trampled on Black Friday as well. Over the last few years, I've become a huge fan of Cyber Monday. Anything that reduces the amount of people that try to touch me, breathe my air and race me to those amazing black boots is heaven-sent in my book. :)
And for anyone that saw Mark Sanchez run into the ass of his own teammate yesterday..this is for we (sad) Jets fans: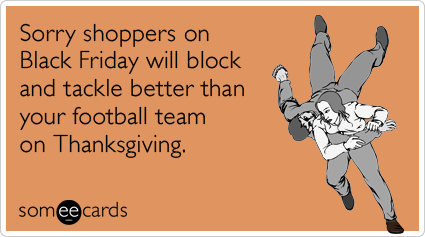 Lots of love and light to you all. :)
XOXO,
B